09.19.2007 - Havainas Philippines can't stop the beat in celebrating Brasilipinas and as part of the ongoing festivities they bring in another treat read it...

In Brazil, to do something with Bossa is to do it with particular charm and natural flair. The term eventually evolved to refer to a growing musical style favored by the artistic beach culture of Rio de Janeiro - Bossa Nova.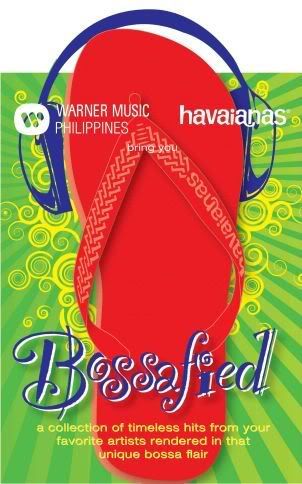 In celebration of Bossa Nova and the laid-back beach culture of Brazil, Warner Music Philippines, the pioneering record label behind pop-Bossa, teams up with renowned Brazilian flip-flops brand Havaianas, to create a one-of-a-kind campaign for the city's growing number of Bossa fans – Bossafied!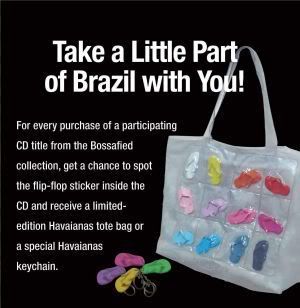 Bossafied! gathers a collection of albums that feature timeless hits from your favorite artists rendered in that unique Bossa flair. Collectors of Bossafied! albums get a chance to bring home a special Havaianas key chain or a limited edition Havaianas tote bag if they are lucky enough to spot the Havaianas flip-flop sticker inside the albums they bought.




Among the albums included in the Bossafied! collection are the highly successful Rio series --- "Bossa N' Stones" and "Bossa N' Marley" which features the electro-bossa songbook of the legendary Bob Marley and the Rolling Stones.

Classics from all-time favorites Bread and Chicago are also "bossafied" in albums "Bossa N' Bread" and "Bossa N' Chicago" while hit-makers D'Sound and Everything But the Girl each take a bossa spin in "Bossa N' Girl" and "Bossa N' D Sound".





Bossa-meets-New Wave in two back-to-back albums (Nouvelle Vague and Bande A Part) of chic French group Nouvelle Vague, featuring their sexy bossa versions of 80s punk/new wave hits, among them the favorite 80s classic "I Melt With You" which was used in the infamous "Brangelina" movie Mr. & Mrs. Smith.

Sitti, the country's reigning Queen of Bossa, is also very much part of the collection with her best-selling albums Café Bossa, Sitti Live and the new album My Bossa Nova featuring the latest single "My Ever Changing Moods".

Enjoy the music of Brazil and take a little part of it with you when you buy any Bossafied! album from the participating outlets - Music One Greenbelt, Music One Glorietta, Music One Alabang Town Center, O Rockwell, Fully Booked Greenhills and Fully Booked Bonifacio High Street and get a chance to bring home a special gift from Havaianas. Promo runs from September 8 to November 30, 2007.

See posters and counter standees in All Flip-Flops and Moana stores for more details.

Note: Limited edition Havaianas tote bag is not for sale.